Our main fundraising is done through books sales of donated used books. We have a cart just inside the library entrance that is open for purchase every day that the library is open. Twice yearly, usually the first weekend of April and October, on Friday and Saturday we open up our book room and sell from our entire collection of books in the large meeting room at the library. In October we also have a Pre-Sale for paid members on the Thursday evening preceding the public sale. We advertise these two sales in local newspapers, reader boards, and flyers posted in Belfair and Allyn, and at the library. We welcome set-up and sale help from our membership.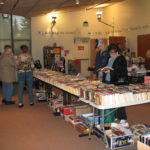 We have the best prices in town!
1$ for hard cover books and
.50 for paperbacks.
Save